Bala Durga Pavan is a 6 year old active kid blessed with a beautiful smile on his face always. However, destiny has other plans for him. He used to suffer from frequent headaches and vomiting s. His worried parents consulted the doctor for a proper health check. Unfortunate for his age, Pavan was diagnosed with brain tumor and Dr.Sushma at KIMS, Hyderabad started treatment. Under Dr.Manas's supervision at KIMS he got a brain surgery and had undergone subsequent radiotherapy for 1 month to 20 fractions of brain and 10 fractions of his spinal cord. This is another example how cancer crumbles one's life. While going through this agony, Pavan kept his hopes higher and responded to the treatment with a positive attitude. He could be just a kid but the tough situations at this younger age made him stronger. This helped him gain higher attitude towards life and act mature. It is his positive energy made him recover from his torments. He showed no fear for the treatment and cooperated with doctors with great hopes for his future. Now Pavan is undergoing chemotherapy for once in 3 weeks and exhibit the same confidence for his future with the same charming smile on his face. Although he is very young, Pavan stands as an example to give the inspiration to accept and face the struggles in life. If we are strong, we can overcome not only cancer but any difficult situation. With a strong determination towards life anyone can make cancer a small thing to go through. All the best and God bless you Pavan.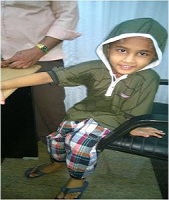 ---
This is the tragic story of Hima Bindhu, a typical Indian woman who aspired a happy life with beautiful dreams about her future. She got married to a man with high ambitions in life and for his family's welfare. However, life took an unexpected turn for them. Bindu's husband tasted a great loss in his business and betrayed by his fellow partners. This had driven them into a huge financial crisis. No near and dear came for their rescue. Added to these sorrows, one day Bindu sensed some itchy red spots on her breast. Later she felt swells in her throat and worried if it was thyroid. She consulted a doctor and due to the medications she gained overweight.She went through various medical tests which showed normal but eventually she was diagnosed with an advanced breast cancer. Knowing this fact, Bindu was very much depressed.With a ray of hope in her heart, she had gone through various surgeries and therapies but not completely cured. Her family spent lot of money and were not completely aware of her situation. Bindhu's major concern was about her children, husband and brother who was giving financial help to her. She was hopeless and grieved. Then she came to know about the activities of SWAPNIKAREHA and met our team. This changed her world. She was given proper counselling that helped her to gain the confidence. Dr.Sushma took care of her treatment. Despite her other sorrows like loss of her father, she got prepared mentally to face these problems. She took the treatment and recovered from the grief. She is under medication and regular checkups, leading a happy life.She achieved her victory over cancer with the support SWAPNIKAREHA team. Our team had a great time with Bindu and her family members. We wish a graceful life and future for Bindu.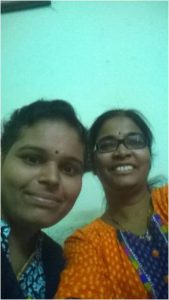 ---
Vaidehi V C: My fight against the dreadful disease - CANCER
Like most Chennai girls, I too had my entry into a Software Company right after my graduation. When I reached 23, I met my better half and tied the wedlock soon. We had a cute little girl child the very next year. I changed my job and joined back after 7 months of maternity. Life was cool and fine with small hurdles that could be crossed with patience. We are a vegetarian family and we have the habit of including fruits in our diet every week. I live with my in laws and having an active lifestyle with busy household chores, office and some workout routines. I eat all vegetables including plantain stem and bitter guard. I find so many adults pushing veggies aside on their plate. It was around 4.5 years post marriage - during August 2014, I noticed a small lump on the right side of my neck. It was of the size of half of a marble. I couldn't figure out why it appeared all of a sudden. I YouTube and googled :) and finally found that its called 'Lymph node Enlargement' and I was clear that it wasn't Thyroid. It was hardly a week after the swelling when I got severe fever which ran upto 102 in the evening and fatigue. I'm generally very active in the evening when I prepare the vegetables for the next day and spend time with the kid - but I was falling on the bed as soon as I returned. I had a sore throat as well. I decided to check it with an ENT specialist who in turn gave me medicines saying that 'Lymph node' coud enlarge if we get infections. He's right actually and so I took the medicines for 3 days when nothing subsided. I went to my gynecologist who has known my health condition thru out my pregnancy. As soon as I blurted out the word, 'Lymph node enlargement' - she immediately asked me to take it serious and perform a series of tests....
Reference By: Read More About Vaidehi
My path of life to Happiness :) A very good day to every person reading this little blog of mine :) For the people who dont know me, I'm a Cancer Survivor :) Its been 7 months now since I was diagnosed with CANCER - Hodgkin's Lymphoma. I had 4 cycles (8 sittings) of chemo and had my last chemo 3 1/2 months ago. I just wanted to share my thoughts on the things that I felt sharing :) This is my pic- 3 and a half months post chemo :) My first blog on 'My Fight against the dreadful disease - Cancer' went viral and it was published in many magazines including Dinamalar, Dinakaran, Tamil Hindu online, Malligai Magal etc. Hundreds of unknown people contacted me via mails/calls/messages - Some gave me their confidence and some got confidence from me. Others got their technical/emotional questions clarified. It was overwhelming to know that I could be of some help to the people around me...
Reference By: Read More About Vaidehi